Father's Day was a scary day for Cindy Gasque to think she might be watching her father die during a family cookout,                                                        but her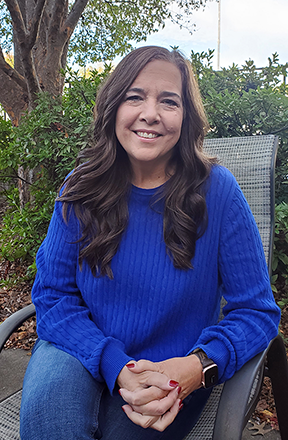 quick action resulted in her receiving a Georgia Electric Membership Corporation Lifesaving Award.
Gasque's job day in and out at Snapping Shoals Electric Membership Cooperative is to respond to the needs and requests of the nearly 100,000 people who own the electric company and get their power from it. Indeed, her job title – Member Care Representative – illustrates that her focus is on care. So, she was primed to tend to her father that day.
Her 80-year-old dad, Garland Worley, had settled in on a metal bench in the shade to watch his grandchildren swim after their meal when he was stung by an insect. Unbeknownst to anyone, there was a wasp nest under the bench. Since he had never experienced an allergic reaction to a sting, he downplayed his daughter's concerns. However, when she returned from changing clothes, Worley appeared to be in distress, and she gave him a Benadryl.
"It was a crazy situation. He has been stung a thousand times in his life, and he's never had a reaction," she said. But Gasque immediately called 911 when Worley said he couldn't breathe.
She followed the operator's instructions to loosen his clothing and use packages of frozen vegetables and fanning to keep him cool. Gasque and her stepmother tried to remain calm to reassure him, but that became difficult as he began turning gray, sweating, and telling them he didn't expect to survive. They were mindful of travel times to Gasque's rural house in Rutledge, knowing an ambulance would require a quarter hour to arrive.
When the paramedics did arrive, the first oxygen tank they used was empty, but fortunately they had a full one in the ambulance. Still, Worley had lost consciousness and required artificial respiration. Things improved at the hospital where doctors credited Gasque with saving Worley's life through her quick action. "They told me he didn't have time to spare," she said.
Gasque is among eight employees from six EMCs in Georgia to be recognized with a 2022 Lifesaving Award, which recognizes EMC associates whose quick thinking and actions are instrumental in safeguarding others from dangerous or potentially deadly situations. All Georgia EMCs focus on safety with regular training. The goal is to create an overall mindset among employees to be aware of danger and to quickly respond with their training. The Lifesaving Award is proof that emphasis on safety is taking root.