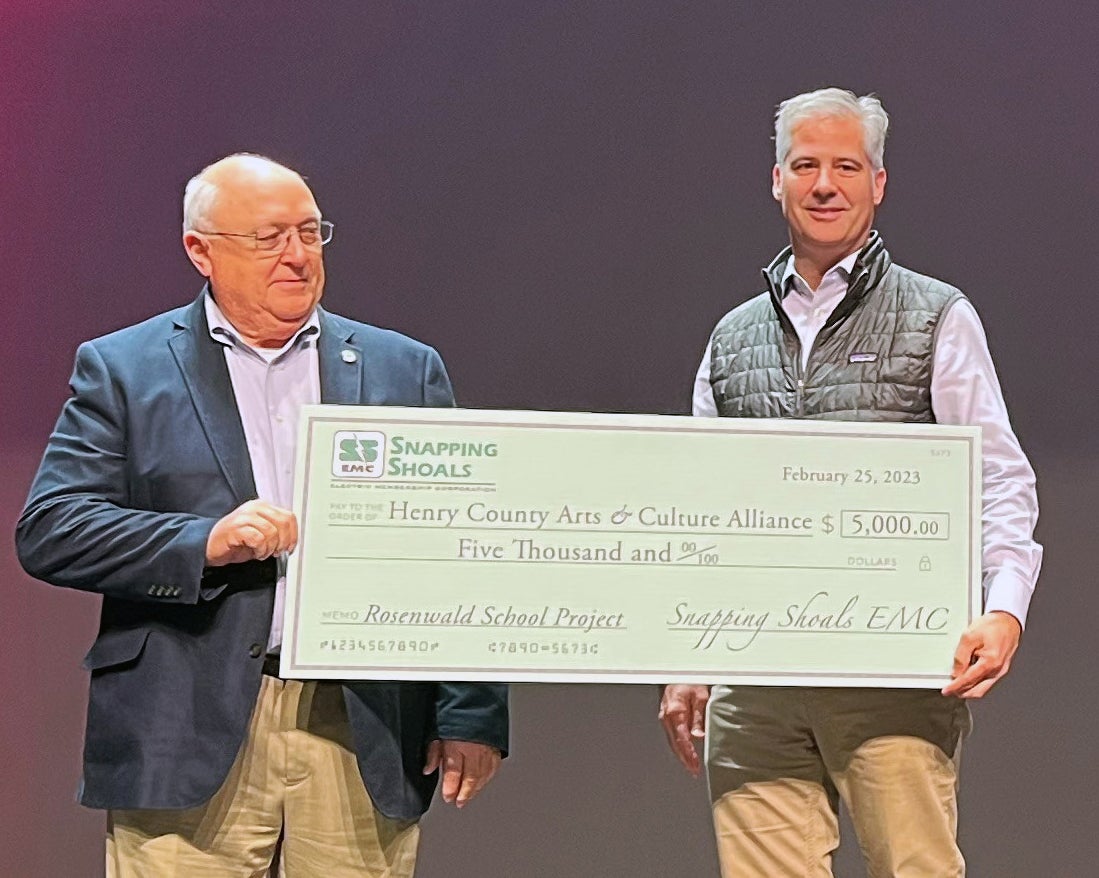 Snapping Shoals EMC donated $5,000 from unclaimed capital credit funds for the Unity Grove Rosenwald School. SSEMC's Vice President of External Affairs Chris Wood, right, recently presented the funds at the Henry County Arts & Culture Alliance's Black History Month celebration. The funds will be used to preserve the Unity Grove Rosenwald School building.
The Rosenwald school-building program was a Progressive Era program funded by philanthropist and businessman Julius Rosenwald. In 1912, he partnered with educator and activist Booker T. Washington, first working with Washington's Tuskegee Institute, and then forming an independent foundation to manage the program. The two men established thousands of state-of-the-art schools for black students in 15 states. The Rosenwald Schools, as they are known, were often the first schools in a black community and helped improve education across the South.
The effort has been called the most important initiative to advance black education in the early 20th century. Attending a Rosenwald School put a student at the forefront of education for black children in the South. The Rosenwald School buildings were a statement of the equality of all children, and their programming made them a focal point of community identity and aspirations. By 1928, one-third of the South's rural black school children and teachers were served by Rosenwald Schools.
When a 1954 Supreme Court ruling declared segregation in education unconstitutional, Rosenwald Schools became obsolete. Once the pride of their communities, many were abandoned or demolished. In 2002, the National Trust joined forces with grassroots activists, local officials, and preservationists to help raise awareness of this important but little-known segment of our nation's history, placing Rosenwald Schools on the 11 Most Endangered Historic Places list. Of the 5,357 schools, shops, and teacher homes constructed between 1917 and 1932, approximately 10 to 12 percent are estimated to survive today. Despite the schools' historical significance, only a small percentage of Americans are familiar with the structures and their impact on our nation's history. While some schools are being preserved for community use, lack of resources and neglect still threaten many others.
SSEMC's donation to the Unity Grove Rosenwald School was funded by unclaimed capital credits. Capital credits are the revenues that are over and above the cost of providing service for customer-owners of an electric co-op for a specific year after financial obligations have been met. SSEMC routinely refunds these capital credits to its members when our Board of Directors determines it is appropriate to do so. The unclaimed funds are used to support community, educational and economic development projects.