Call 678-814-4961 or use the mySSEMC app to report your outage. You can also easily report outages online via mySSEMC. You will need your home phone number and/or account number to report an outage.
To download the app, click below:
Snapping Shoals EMC is committed to giving you the best possible service. We hope that you don't experience an outage, but here are some tips if you do:
• Avoid downed power lines. If a line falls on your car, stay inside your vehicle.

• If the outage occurs during hot weather, stay cool and drink plenty of fluids to prevent heat-related illness.
If the outage is during cold weather, wear layers of clothing and use blankets to help trap body heat.

• To prevent carbon monoxide poisoning, use generators, grills and similar items outdoors only. Use battery-powered flashlights and lanterns, rather than candles, gas lanterns, or torches to minimize the risk of fire.

• When the power goes out, water purification systems may not be functioning fully. Safe water for drinking, cooking, and personal hygiene includes bottled, boiled, or treated water. Your local health department can make specific recommendations for boiling or treating water in your area.

• Keep refrigerator and freezer doors shut. A closed refrigerator will stay cold for up to 12 hours. Use a food thermometer to check the temperature of your food right before you cook or eat it. Throw away any food that has a temperature of more than 40 degrees Fahrenheit.

• Leave a light switch on so you'll know when power is restored. Unplug other appliances, so they aren't damaged when the power comes back on.

• Make an emergency supply kit. The kit should include water, dried and canned food, and other emergency supplies (flashlights, batteries, first-aid supplies, prescription medicines, etc.) to last for at least 3 days.
When there's a power outage, electricity must be restored in a proper progression, which is not a job that can be done at random. Our ultimate goal is to restore power to the greatest number of consumers in the shortest time possible. Therefore, cases where the most members are affected are handled first. Power restoration can be a tricky business, and we appreciate your patience and cooperation whenever an outage occurs.
How Outages are Reported
When members call to report an outage, it is logged in our automatic reporting system. The system groups calls by location so that our dispatchers can determine what has caused the outage and whether or not it is an isolated case. Trucks are first assigned to the locations where the most members are affected, and isolated cases are handled last.
Take a look at the picture below for more details on how power is restored.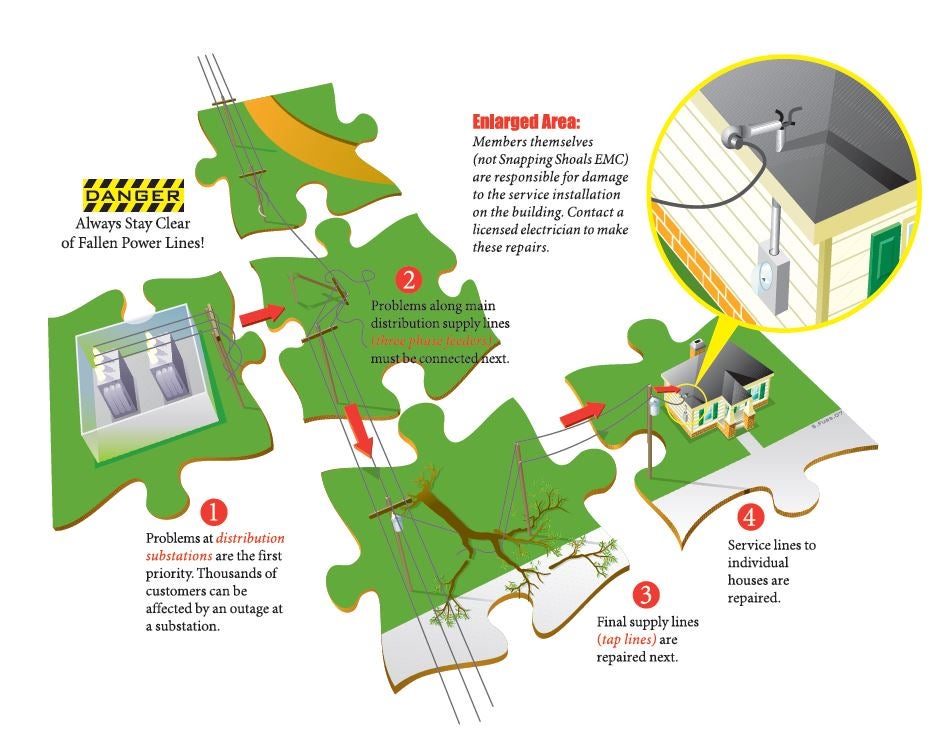 If you lose service in your home or neighborhood, please report it via the mySSEMC app or by calling 678-814-4961.